Doors Open was adapted for TV over Christmas and I was quite keen to see it, but unfortunately an unreasonably demanding social life got in the way.  I have now read the book – unusually for me I bought a copy with the TV cast on the front, which meant that I did wonder to myself which actor was cast for which part.  Traditionally, Rankin's work has been subjected to some appalling casting, but if Stephen Fry was indeed given the part that I would imagine he was, then this one might have gone better.  Still – it's funny, having read it I no longer feel the same interest in watching the film though … this does seem an unusual reaction and it wasn't that I didn't think it was well done …
Ian Rankin is one of the only Successful Authors who I have actually met.  Twice.  The first time I was sixteen and at the Harrogate Crime Festival (my godmother took me, she reads this sometimes – hello!) and I asked Rankin to sign a book for my parents who were big fans.  The next time was six years later when he came to the J & G Innes Ltd., an independent bookseller in the town where I was at university.  That time, I asked him to write a congratulations card for my Dad who had just been promoted.  I know that the simple fact that Ian Rankin is a lovely friendly person who will willingly fill in a congratulations card for someone he has never met should not affect the way in which you view his writing but it does.  I remember as well how my godmother and I were tramping around Harrogate before the festival and we saw a young family with two boys, the younger of whom was in a wheelchair and who quite clearly had Angelman Syndrome.  It was not until the start of the festival that I realised that the Dad in the family was Ian Rankin.  I saw him at different points over the week with his younger son and while I know that the simple fact that someone is disabled does not make it any harder for them to be loved, I still couldn't help but feel that his success has been all the more well-earned.
Rankin is of course best known for his creation John Rebus.  My parents have all of that series and I had always vaguely thought that I had read one or two but when I joined GoodReads I was actually surprised to noticed that I'd read six.  It's just that there's so many more that I haven't read – crime fiction is rarely my genre – Brother Cadfael is about my limit, I like it because of the history side and because there tends to be a limited body count.  Anyway – Rebus was a very popular character who had his Retirement Book about five years ago (approx) – I didn't read it and I actually don't know if he got to retire or if he died or whatever – anyway, Rankin had to move on to pastures new and to be fair to him, he has done so with gusto – roughly a book out a year since.  JK Rowling, take note.
I know that Rankin has started a new series about an Internal Affairs officer, but Doors Open is more of a stand alone.  I thought I might like it more than I normally like crime fiction because it's not to do with murders or sex crimes, it's about an art heist.  After all, I enjoyed The Thomas Crown Affair … plus, I do like to try things that are different to what I normally read.  Doors Open is the story of three men, one a recent computer millionaire who is bored to tears with all of his wealth, another a depressed banker who is bored by himself and an art professor who is more disgusted with the world than bored of it (I'm pretty sure he was played by Stephen Fry).  Anyway, although an ill-assorted group, they meet at various art auctions and reach the conclusion that it's terribly unfair that museums keep large quantities of their art collections under wraps and that it would be much better to have a 'redistribution' of these paintings among people who understood enough to truly appreciate them.
I like this picture
The thing is – I am not the kind of person who purses their lips over anything that paints crime in a sympathetic light.  I watched The Wire and thought it was awesome, then on the other end of the scale, one of my favourite films is Ocean's Eleven (well, it's not my favourite, that spot has belonged to The Wizard of Oz since 1994 but it's in the top twenty).  It's just that in this instance, I found it hard to sympathise with the motivation of the crime.  I like art galleries.  I do.  A few weeks ago I went to a Manet exhibition with my mother … although to be fair it was her idea … and I was left seriously underwhelmed.  I think that you needed to engage strongly with art to understand the motivations of this book and somehow, I struggle.
I have my own feelings about artworks – The Louvre is one of my favourite places in the world, I love the Mona Lisa, work by Hans Holbein and Van Gogh.  I'm pretty sure that I'm a Philistine of some description – I like nice pictures without any real critical thought.  When I worked for a summer travel company (escourting overseas teenagers to tourist attractions around London) one of the few that I liked was the National Gallery, I spent rather a large amount of money on postcards.  My bedroom is plastered with postcard reproductions of pictures I liked.  Now and again I have even shelled out for a larger reproduction of pictures that I particularly appreciate – for example this picture above which at the time kind of reminded me of myself – at first, all you see is the bright jumper and that's she's being silly with her hair and it's not until you look closer that you see she's unhappy.  Similarly, earlier on this week, I paid out for a larger reproduction of a World War II propaganda poster because I've always liked it and I think it celebrates the triumph of hard work and makes the war work seem exciting.  Since 2006, I've had Edward Hughes' Midsummer Eve on my wall, to the extent that when my first copy of the poster got wrecked, I bought a new one.  Making a grand outlay of £14 on having what most people regard as an impossibly twee Victorian image on my wall.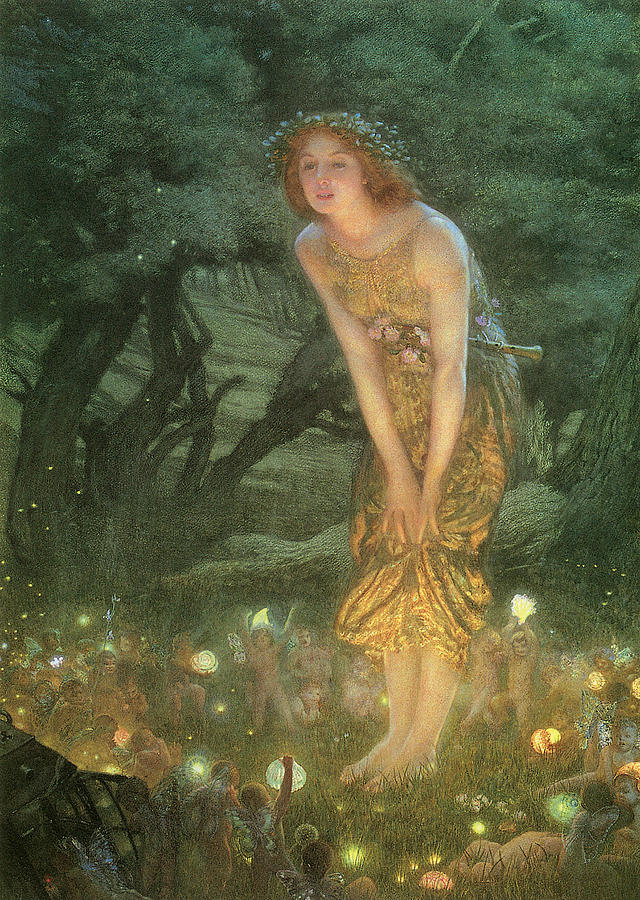 Cheesy, but I love it 🙂

All this possibly says a lot about my taste in art – I am also a bit of a John Everett Millais fan, the man responsible for Bubbles, but to be fair he also painted Ophelia and The Order of Release, my feelings about him as a man are documented here.  Still even if my tastes are not very sophisticated, to be blunt, I don't care – it's not that I'm insensitive to artistic expression, I just like what I like. Still, with all the of the many art galleries I have visited and the many paintings that I have liked, I have never felt the remotest need to actually steal an original.  Not even the ones that aren't even available in postcard form.  

This is not a complaint about the plot of the novel itself – it's more an explanation of why I personally struggled to identify with the story.  The trio plan to take advantage of the real life yearly Open Doors day in Edinburgh, where members of the public are allowed to visit usually closed buildings eg. the Freemasons' hall and also the warehouse where all of the excess paintings are being stored and I could imagine that for Rankin the plot must have first drawn breath as a daydream for a painting that he might have wanted himself.  But if this novel offers a kind of wish-fulfillment escapism, it isn't my dream.  I am the girl who waits for the paperback, I hang fire for the price to drop on the DVD, my family would say that I am miserly – I think that I am just easily pleased.  My tastes are not excessive.  Perhaps it's the Presbyterian in me.  But anyway – quite apart from the fact that I struggled to … not so much suspend my disbelief I suppose, but rather to suspend my disdain, I could see that this was a well put together novel.  Right from the beginning in the Prologue, it is clear that this was a heist that started well but went horribly wrong.  The main character is Mike, swept along with the idea of this heist as a sort of lark, but the practical side of the whole operation does ground the whole process in a way that The Thomas Crown Affair or Ocean's Eleven did not manage.  Mike and crew find themselves forced to take on extra staff; Westie the disaffected art student (Banksie wannabe) with a demanding girlfriend and a talent for forgery, but then also the far more dangerous 'Chib' Calloway, Edinburgh Mafia boss and all round Mr Nasty who is able to provide the muscle.

I think that Rankin's main point through this was that Crime Doesn't Pay.  The heist becomes increasingly complex with more people on board.  The gang (I use that term because I've already used crew, not to indicate that they are in anyway Mafia-esque) plan to substitute the paintings which they want with various forgeries by abandoning their heist van in an apparent panic and leaving the forgeries behind after they have 'fled'.  Still, several threads come in to complicate matters … Chib Calloway owes money to a Hell's Angel, Westie's girlfriend wants more money, a certain Inspector Ransome is going around Asking the Right Questions and the group are left wondering whether or not they can even trust each other.  Most believable for me was poor Allan the banker who realised that he really would have been happy with just the the forgery, rather than the original which he would never be able to hang in his flat for fear of discovery.  Although they committed the crime for the Love of Art, what they have done has put it all at huge risk.


Again though, this harks back to real life.  Caravaggio's Nativity with St Francis and St Lawrence was stolen back in 1969 and its true whereabouts remain a mystery, but rumours persist that it was stolen to order by amateurs who rolled it up and inadvertently destroyed it and that the man who had 'bought' it/paid for it be taken wept upon seeing what had become of it.  The words of Dickens spring to mind here, or rather the words of one of his more rough spun characters who muse about the dangers of stepping outside 'the square' of righteousness – once you stop playing by the rules, There Be Dragons.  Rankin has created a cast of Ordinary People trying to play with the big boys and they haven't a clue what they're doing.  Or rather, most of them don't.

The ending was odd and I wasn't quite sure what I thought of it.  I was glad that Rankin 'punished' the characters in what seemed to be a realistic way.  His fiction has always been rooted in realism and although in this book he is almost gamekeeper turned poacher, I do think that it would have been a stretch stylistically for things to have ended differently.  All the same, I didn't like the twist – not that I thought that it was unrealistic but it was just that kind of betrayal depresses me and I think I read this book for a bit of light relief.  I think that it was this that put me off wanting to watch the TV adaptation.  It had seemed to be a story of some ordinary people trying to pull of a heist, but actually it was about much more than that.  

To offer some concluding thoughts I was interested by the character of Mike, a millionaire who technically had no need to ever work again, an interesting creation for a hugely successful crime writer like Ian Rankin – does he ever get bored in the same way?  He does seem to have a formidable work ethic based on his literary output, I remember him giving a talk once about how his wife once made the whole family move to France because she thought that he could write more there but I noticed that he's back in Edinburgh now.  I wonder if it's because he has a family that he is able to find more focus than Mike was able to … the difference I suppose is that Mike was without any real life goals.  Ian Rankin is an exceptionally talented writer, which of course gives him a far greater direction in his life.  Is this book therefore about the traps we fall into when we are not happy with what we are doing?  I'm not sure … the concluding paragraph of the book was unclear and seemed to leave the door open for interpretation (see what I did there? Thank you very much, I'm here all week). 

This was a very different read for me, I appreciated that Rankin had pulled off an interesting and well-plotted novel set in what is to be fair my favourite city in the world, Edinburgh.  I was there earlier on today and every time I get off the train and up the ramp I am reminded of how much I love the place.  It's nice reading about a city that I do know quite well and although Rankin does emphasise the less salubrious areas of Edinburgh which it's easy to brush past, it's still nice to read a book where I know where things are going on.  In the longer term, I do keep meaning to have another go at the Rebus books which I haven't finished, there's no doubt that Rankin has a real talent for peppering his writing with social satire and that his dialogue is consistently outstanding.  I think that in this case, it really wasn't the book that had anything wrong with it, the problem lay with me.
(Visited 346 times, 6 visits today)
Doors Open

by Ian Rankin
Published by Hachette UK on September 18th 2008
Genres: Fiction, Crime, Mystery & Detective, Traditional, Police Procedural, General, Traditional British
Pages: 272
Goodreads
ISBN: 9781409106746


This post contains affiliate links which you can use to purchase the book. If you buy the book using that link, I will receive a small commission from the sale.